Youth Council
The Congress of Communities Youth Council is comprised of Latinx teenagers who live in or attend school in Southwest Detroit. Each year-long cohort has 12-15 participants, and focuses on leadership development, civic engagement, Latinx history and culture, mentorship, and educational justice.
YOUTH DIALOGUES ON RACE & ETHNICITY
In order to prepare the students for leadership development through social justice lens, each cohort completes University of Michigan's Youth Dialogues on Race and Ethnicity program, where they engage in inter-group dialogue with other teenagers from across metro Detroit throughout the summer. Youth come out of this program with a thorough education about racial and social justice, an understanding of power, privilege and oppression, a project idea they'd like to implement in their community, and connections with diverse peers across the metro area.
"Congress of Communities was the first club I joined that helped me open up - then I was able to join more clubs at my school because I wasn't scared. I just loved it and couldn't stop!" -Youth Leader
LEADERSHIP DEVELOPMENT
CoC believes that leadership development is more than learning theory in a classroom. In addition to traditional leadership development training, Youth Council members are given opportunities to engage in immersive activities such as kayaking, skiing and attending cultural events in Southwest Detroit, as well as in other communities.
Youth are also viewed by community partners as leaders and advocates, resulting in opportunities for members to attend advocacy days at the state capitol, speak to City Council members and police officers, and help plan community events.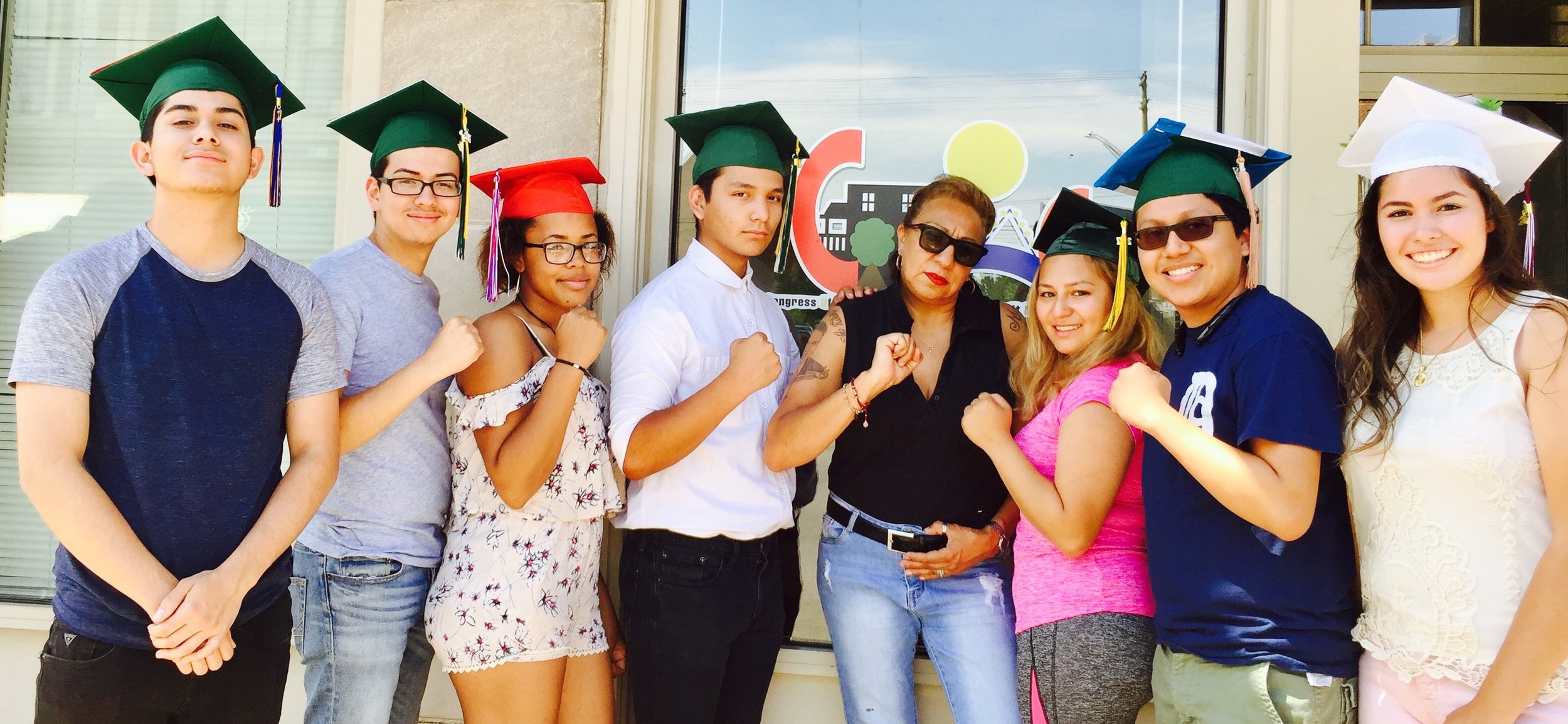 YOUTH-LED PROJECTS
Students come back from the summer program with a project plan they'd like to implement to address a social issue in the community. For the past 4 years, this project had involved educational justice, resulting in the ongoing initiative "Owning It, Out Education" or OIOE, which addresses educational injustices for students of color in Detroit. Youth Council members are involved in all projects planning aspects, from securing funding, to promoting the project, to analyzing outcomes of the program.
Project Examples: Mural challenge stereotypes on Vernor and Rieden; Trip to Washington DC to support to advocate for the Dream Act; Owning It, Our Education & Nuestro Futuro mentorship programs to prepare southwest Detroit students for college and strengthen intergenerational alliances.
SUCCESSFUL OUTCOMES
Youth Council alumni have overwhelming success with higher education, with nearly 100% of participants over 18 attending college or trade schools, and with many students receiving full scholarships at universities such as University of Michigan, Harvard, Stanford, and Michigan State.
Youth Council members want to give back to their community- every project a cohort has decided to implement has incorporated outreach, education, and/or service to the larger community.
100% of Youth Council alumni surveyed in 2017 said a primary outcome of their involvement with CoC was a stable connection with a mentor.